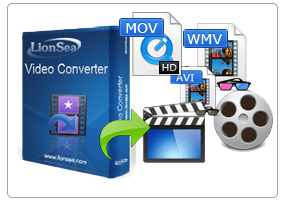 Convierte Todos los Formatos de Video& Audio, High Quality, Fast and Easy
Convierte más de 200 formatos. Disponible para más de 150 dispositivosPersonaliza tus vídeos: añade efectos, marcas de agua, subtítulos, fusiones, recorta, etc..Es 50 veces más rápido que los programas especiales que utilizan GPU y tecnología multicolor
Convierte Todos los Formatos de Video& Audio
Formatos de entrada

Video:AVI, MPEG, WMV, MP4, FLV, MKV, H.264/MPEG-4, DivX, XviD, MOV, RM, RMVB, M4V, VOB, ASF, 3GP, 3G2, SWF, H.261, H.264, DV, DIF, MJPG, MJPEG, DVR-MS, NUT, QT, YUV, DAT, MPV, NSV AVCHD Video (*.mts, *.m2ts), H.264/MPEG-4 AVC (*.mp4), MPEG2 HD Video (*.mpg; *.mpeg), MPEG-4 TS HD Video (*.ts), MPEG-2 TS HD Video (*.ts), Quick Time HD Video (*.mov), WMV HD Video (*.xwmv), Audio-Video Interleaved HD Video (*.avi)
Formatos de salida

AVI, MPEG, WMV, MP4, FLV, H.264/MPEG-4, DivX, XviD, MOV, RMVB, ASF, 3GP, 3G2, SWF, VOB, TS, DV,MKV H.264/MPEG-4 AVC (*.mp4), MPEG2 HD Video (*.mpg; *.mpeg), MKV HD Video, MPEG-4 TS HD Video(*.ts), MPEG-2 TS HD Video (*.ts), Quick Time HD Video (*.mov), WMV HD Video (*.wmv), Audio-Video Interleaved HD Video (*.avi))
Audio:MP3, WMA, AAC, WAV, CDA, OGG, FLAC, APE, CUE, M4A, RA, RAM, AC3, MP2, AIFF, AU, MPA, SUN AU Format
MP3, WMA, AAC, WAV, OGG, FLAC, APE, M4A, RA, AC3, MP2, AIFF, AMR, SUN AU Format
Dispositivos Soportados

iPod, iPod nano, iPod classic, iPod shuffle, iPod touch 4 iPhone, iPhone 3G, iPhone 3GS, iPhone 4, iPhone 4S,iPhone 5, iPad, iPad2, New iPad,iPad 4, Apple TV PSP, PS3 Xbox, Xbox 360 General mobile phone, BlackBerry, etc. General MP4 players: Archos, Creative Zen, iRiver, etc. Windows Mobile devices: Pocket PC, Dell Axim X51, HP iPaq hw6500 series, etc. Google phones: Nexus One, HTC Hero, HTC G2 Magic, HTC Tattoo, Motorola Droid2, Motorola CLIQ, SamSung i7500 Windows Phone 7: HTC Surround, HTC 7 Mozart, HTC 7 Trophy, HTC HD7, HTC 7 Pro, LG Optimus 7, LG Quantum/Optimus 7Q, Dell Venue Pro, Samsung Focus, Samsung Omnia 7,Windows Phone 8,Windows Phone 9 etc.
¡Descargue Video Converter y disfrute de su video ahora!


Inicio Rápido?


¡Tan fácil como 1-2-3! Fast and Easy, no damage to the quality of the original video/audio.
Here are 3 Steps to Convert Video or Audio Files:

2. Añadir Archivos y Seleccionar formato de salida.
3.¡Empiece a Convertir y disfrute Ahora!



Convert video – DVD* y HD!

Convierte todos tus vídeos y audios en AVI, MPEG, WMV, H.264/AVC, DivX, MP4, MKV, RM, MOV, XviD, 3GP, FLV, MP3, WMA, WAV, AAC, AC3 y otros formatos conocidos.




Efectos especiales para individualizar Videos

Muestra tu creatividad en tus vídeos y haz que suenen y se vean fantásticas. Sólo necesitas ajustar el brillo, la saturación, añadir efectos artísticos, múltiples imágenes, marcas de agua o subtítulos.
Rápida velocidad de conversión

Lionsea Video Converter has has a fast converting speed. Any small size video and audio files can be converted into any format within several seconds. Even larger size video can be converted into small size within a short moment.
Wide System Compatibility

Lionsea Video Converter Ultimate es compatible con todas las versiones de sistemas operativos Windows tales como: Windows 7, XP, Vista, 2000, 2003, 2008, 32 y 64 bit.

* Disclaimer:Note que los programas LionSea no le permiten copiar material protegido. Usted puede usar este software para copiar material del cual usted posee el copyright o ha obtenido permiso para copiar del propietario del copyright.
LionSea es una marca comercial registrada de LionSea Software co., Ltd. Intel y Core 2 Duo son marcas comerciales registradas de Intel Corporation. AMD y Athlon X2 son marcas comerciales registradas de Advanced Micro Devices, Inc. Windows 7/XP/2003/Vista son marcas comerciales registradas de Microsoft Corporation. Todas las otras marcas comerciales son propiedad de sus respectivos propietarios.
Este sitio y los productos y servicios ofrecidos en este sitio no están asociados, afiliados, endosados o patrocinados por Apple,Microsoft,Google, ni han sido revisados, probados o certificados por Apple,Microsoft,Google.

Download Now: Video Converter Software
* Video Converter convert all video and audio formats.